I can't forget the feeling I had while watching Blood Diamond for the first time.
Etched into my memory is my reaction to the violence. Two words: horror and inexplicable pain.
Early on in the movie, Solomon Vandy's whole existence is destroyed by the arrival of rebel forces in his small village. The scene which unfolds is horrifying, and the filmmakers do nothing to spare the viewer of the harsh realities of the Sierra Leone Civil War. The air is filled with the rapid explosion of machine gun fire and the primal cry of human misery. Women are gunned down as they run for shelter, blood spatters as men trip in the dust on their way to their deaths, and children---including Solomon's own son---are ripped away from their families to be brainwashed and forced into militia service. Shortly thereafter, the village's remaining men are sorted through, either to have their hands cut off or to be sent to mine diamonds to fund the rebel militia.
Something within me recoiled as I watched the events play out on screen---events which are easy to dismiss as Hollywood's take on gritty entertainment, but reflect the uncomfortable reality of the human experience for so many on this planet. On the verge of nausea, my spirit spoke to God in the same way a frightened child turns to its father---
Why? How could You have let this happen? Why didn't You stop this?
It's a question I ask Him a lot---when I talk to a young woman about the man who abused her, when I read about the Lost Boys of Sudan, when I listen to my friend's tearful account of struggling with depression. It's the question that continually fills the mouths of atheist apologists, religious philosophers, and anyone who has experienced a broken heart---how could a supposedly good God allow fear, suffering, evil? Sometimes the question is purely intellectual, but usually it's associated with the heat of fury, despair, hopelessness.
And it's a valid question. A reasonable one. A worthwhile one.
And it's one that He answers.
No sooner had my soul groaned a desperate, Why didn't You do anything about this?, than He answered back in a clear and stable voice---
I did. I died for this.
More than two thousand years ago, the people of Israel were asking of God the exact same question that has continually been on humanity's tongue. The impoverished population of their small country was uprooted in order to be registered by a foreign oppressor. The air was heavy with fear and injustice, and hope for freedom led to rumors and plots of uprisings. Crowds overpopulated the centers for registration, and droves were without shelter.
Among them was one young unmarried couple. The woman was pregnant---it was the scandal of her hometown---and close to giving birth. In their desperation, the woman---girl, really---was forced to give birth in a cave used to house sheep. The baby's first breath was marked by the stench of manure, and his first guests were a group of rag-tag shepherds. Within two years, a king crazed by paranoia forced this new family to flee the country when he slaughtered all of the boys below the age of two. Thirty plus years later, in the chaos of political rebellion and hard-hearted legalistic religion, the stage was set for this baby to be crucified.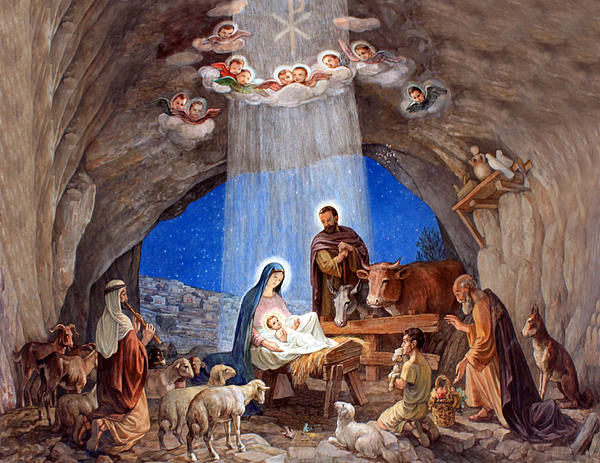 It's not a pretty picture. It's hardly the lovely, peaceful scene which is portrayed by the art of the Middle Ages or the songs that we sing or the little plastic statuettes in our front yards.
And yet, in all the chaos and pain of that situation, the angels---the first to declare Christ's arrival---have the good news of peace.
And

there

were

in

the

same

country

shepherds

abiding in the

field

,

keeping

watch

over

their

flock

by

night.

And,

lo

, the

angel

of the

Lord

came

upon

them,

and

the

glory

of the

Lord

shone round

about

them:

and

they were

sore

afraid

.

And

the

angel

said

unto

them,

"

Fear

not:

for,

behold

, I

bring

you

good

tidings

of

great

joy,

which

shall

be

to

all

people.
For

unto

you

is

born

this

day

in

the

city

of

David

a Savior,

which

is

Christ

the Lord.

And

this

shall be a

sign

unto

you;

Ye shall

find

the

babe

wrapped in swaddling

clothes

,

lying

in

a

manger."

And

suddenly

there

was

with

the

angel

a

multitude

of the

heavenly

host

praising

God,

and

saying

, "

Glory

to

God

in

the

highest,

and

on

earth

peace, good

will

toward

men." (Luke 2:8-14)
I don't know if you have watched too many Christmas episodes of TV shows. Somewhere in the jostle of lights, warm-fuzzies, and family fun, there's usually a moment of "And isn't that what Christmas is all about?" Just the other day, I watched Glee's Christmas episode. I don't watch the show very often, but I heard that they pulled a Charlie Brown and had Damien McGinty read the story of Jesus' birth from the book of Luke, and I was curious to see if there was any more depth to the episode than the usual holiday fare. There wasn't. The proclamation of peace given by the angels just led to some hugging and the sudden awareness that the homeless were probably needing a song.
That's not what this story is about.
The story recorded in Luke 2 is a story of real peace. It is good news.
It's the story about how God looked at humanity, at you and I, in our desperation. He saw the pain and suffering of Israel under Roman rule. He saw the blood on Cain's hands as he murdered his brother. He saw the girl from Texas haunted by a history of domestic violence. He saw the children forced to murder in rebel armies. He saw the bitter pride in my heart that marked my final years of high school (not a high point for me).
He saw sin. It's like a cancer that gnaws away at us. It's the root cause and flag of our rebellion against Almighty God. It's the reason we are not at peace with Him, the reason that there's such a disconnect between our loving and just God and our horrifying world. But our sin isn't private or limited to just us---in large and small ways it works its way out and by it we destroy one another, whether through bloody civil war or a cutting comment.
And even while knowing our infectious and vile and self-destructive ways, He chose to set aside His glory, to slip into our skin, to be born and walk and die for us. He chose to take on the fury and anger and just condemnation that we owe for our sin to restore peace with God and to heal the wounds we have dealt one another.
The baby in the manger was born to die, to satisfy the wrath of God so that He could bring reconciliation and peace to all of our brokenness. And He has promised to return to restore the earth, to establish justice, to end the pain and chaos of our world. In the meantime, His church is called to be ministers of reconciliation, working with His Spirit to bring peace between God and men and between one another.
That's beautiful.
O Holy Night! The stars are brightly shining,




It is the night of the dear Saviour's birth.




Long lay the world

in sin and error pining.




Till He appeared and the Spirit felt its worth.




A

thrill of hope,

the

weary

world rejoices,




For yonder breaks a

new and glorious morn.




Fall on your knees! Oh, hear the angel voices!




O night divine, the night when Christ was born;




O night, O Holy Night , O night divine!




O night, O Holy Night , O night divine!





....





Truly He taught us to love one another,




His

law is love

and His

gospel is peace.


Chains he shall break, for the slave is our brother.
And in his name all oppression shall cease.




Sweet hymns of joy in grateful chorus raise we,




With

all our hearts

we praise His holy name.




Christ is the Lord! Then ever, ever praise we,




His power and glory ever more proclaim!




His power and glory ever more proclaim! (1st&3rd verses from "O Holy Night")


Praise our Father, who loved humankind in our most gruesome and miserable state as we blatantly shook our fists in His face and took the lives of our brothers and sisters. Praise the Son who took on flesh, became a man in order that He might pay for the horror of our crimes. Praise the Spirit for His work in healing us---in transforming us into the image of Christ and bringing unity to God's people.


PS- this is probably going to get an overhaul when I'm more awake to edit it.